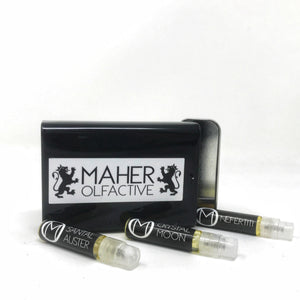 When you purchase a discovery set of 2 mL spray samples of the entire Maher Olfactive line (permanent editions) in a hinged metal tin, you will receive a coupon for 25% off your next order.
However, you must opt-in to receive marketing emails at checkout to receive your discount code via email. Simply check the box and it'll send an email. However, there has been a bit of a technical glitch with Shopify's new Shop Pay checkout option. If you do not get an option to opt in, please email me at shawn@maherolfactive.com to get a discount code. Sorry for the hassle. I am currently trying to get an answer or solution to this.
The Discovery Set contains everything in the regular lineup but does not include special limited editions. 
For individual samples from Maher Olfactive, Chatillon Lux and many other independent perfumers, visit American Perfumer and Sealed Essence.